Released
September 25, 2015
Recorded
2015
Length
32:57
Producers
Dan Carey
Label
The Echo Label
Discography
From SEXWITCH
"SEXWITCH" is the debut album by SEXWITCH, a musical collaboration between Natasha Khan, Dan Carey and TOY. It was released on 25 September 2015 via The Echo Label.
Background
[
]
The album consists of six cover versions of 1970s' psych and folk songs from Iran ("Ghoroobaa Ghashangan" and "Helelyos"), Morocco ("Ha Howa Ha Howa"), Thailand ("Lam Plearn Kiew Bao") and the United States ("War in Peace").[1] The lyrics were translated by the group's friends, and Natasha mixed the parts she liked to create the songs.
"Some people sent back differing translations. People's interpretation of poetry is really interesting—sometimes you translate something really word-for-word, and other people put it into a more poetic context. I did a really quick, instinctive pulling out and underlining of things I liked, and started mixing them together to create these songs."
Music and composition
[
]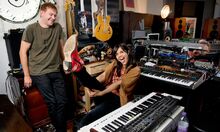 The album was recorded in one day at Dan Carey's studio in London. TOY learned the songs and recorded them in a single take.[1]
Natasha noted she felt she "was being taken over by something else" when she recorded the vocals:
"When I was in the studio doing the singing, I felt like I was being completely taken over by something else. I don't even really remember how it came about, it was just channeling something really heavy-going, and by the end of each song I was shaking."[1]
When asked whether the album was cultural appropriation, she replied:
"Well I'm half-Pakistani, so shove it! I think they need to get a life and not worry about it. Music's free and music's for everyone to enjoy and express and interpret. It transcends countries and times and decades and I don't think it should be an issue. It's definitely not exploitative, it's a celebration, and there's a lot of respect and love for that music there. I feel a kinship with all of these songs and really wanna show them to people."[1]
Artwork
[
]
The cover photograph was taken by Neil Krug.
Singles
[
]
On 24 August 2015, Sexwitch released a single, "Helelyos", online. Rolling Stone described it as a "hypnotic, Middle Eastern-infused groove".[2] The Guardian said Sexwitch comprised "hypnotic, groove-based tracks that feature jagged post-punk guitars" and "shrieking crescendos".[3]
On 18 September 2015, Sexwitch released a second single, "Ha Howa Ha Howa", online. Consequence of Sound described it as a "Sexwitch has shared another such track".[4] The Stereogum said, "Her chanting turns to wailing and the groove mimics that transition, building and swelling along the course of the track's seven minutes".
Track listing
[
]
References
[
]