Natasha Khan, known professionally as Bat For Lashes, is an English singer, songwriter, record producer and multi-instrumentalist. She released five albums under this moniker, but also has released songs under her real name.
Early life
Khan was born in Wembley, London, England on 25 October 1979 to a English mother, Josie, and a Pakistani father, squash player Rehmat Khan.[1][2][3][4][5] Her father left the family when she was 11.[1] She spent her childhood both in the UK and Pakistan.[6]
Khan was subject to racial abuse during secondary school for being Pakistani, played truant, and was suspended after swearing and throwing a chair at a teacher. After completing her GCSEs and A-Levels, Khan took a job in a card-packing factory where she would work while listening to songs she had made. She said: "My internal imaginary life was really fruitful at that time. I remember packing cards and just listening to songs that I had made the night before on my mini-disc player. All day long just listening and dreaming, while counting the cards to be packed."[2] With money saved from the job, she embarked on a three-month road trip through the United States and Mexico.
After returning to the UK, Khan settled in Brighton in 2000 to study music and visual arts at the University of Brighton,[2] where she produced sound installations, animations and performances influenced by artists including Steve Reich and Susan Hiller. After finishing her degree, Khan completed an NVQ in play work and childcare, and worked as a nursery school teacher, dedicating her spare time to developing songs, recording demos and gigging in Brighton. She said the name Bat for Lashes "doesn't really mean anything [...] It conjured up Halloween-y images, and it sounded metal and feminine."[7]
"I've been asked many times and I never have a good answer. It just sounded like the music to me. 'Bat' because I've always been obsessed with Halloween and nocturnal animals and subconscious realms. And 'lashes' because it sounds quite feminine but also a bit heavy metal. Or sadomasochistic."[6]
Career
Khan self-released her very first demo album, titled Who Stole Petretski's Thunder?, during a show in Brighton in 2004.
Fur and Gold era (2006-08)
Khan's debut single, "The Wizard", was released digitally through Drowned in Sound records and on seven-inch vinyl through Khan's own imprint, She Bear Records.[8] In 2006, she signed to Echo, a record label owned by independent publisher Chrysalis Music that acted as an incubator for artists before "upstreaming" them to major labels.[9] Echo released her debut album, Fur and Gold, in September 2006. In 2007, Bat for Lashes and Echo signed an international licensing deal with Parlophone Records, which re-released Fur and Gold the same year with the bonus track "I'm On Fire".[10]
Fur and Gold was shortlisted for the 2007 Mercury Prize, losing out to Klaxons' Myths of the Near Future despite being a favourite of British media to win the award.[11]
Bat for Lashes was a opening act during Radiohead's 2008 tour. Her version of The Cure's "A Forest" appeared on a charity album called Perfect as Cats on Manimal Vinyl in late 2008.[12]
Two Suns era (2009-11)
Two Suns was released in April 2009 and produced by Khan and David Kosten. The album was written and recorded around the world, from Big Sur and the Joshua Tree desert in California to the rolling Welsh countryside and the city sprawls of New York and London.[13]
The album is described as "a record of modern-day fables", exploring the idea of duality (two lovers, two planets, two sides of a personality, two landscapes – the city and the desert) and metaphysical ideas concerning the connections between all existence.[14] It also focuses on the alter ego Pearl, who Khan created during her stay in New York in order to personify the destructive landscape of the city.
The album's lead single, "Daniel", won the Ivor Novello Award for Best Contemporary Song.[15]
Back in March 2009, Khan collaborated with the song "Sea Horses" for The Secret Of Moonacre soundtrack.
In 2010, she collaborated with Beck on the track "Let's Get Lost" for the Twilight Saga: Eclipse soundtrack. After collaborating with him, she hinted at working with him on the follow-up to Two Suns.[16]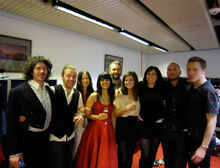 In 2011, Khan recorded a cover version of Depeche Mode's song "Strangelove" for a Gucci advertising campaign. The song was released as a free download from Gucci's channel on YouTube and various blogs.[17] In June 2011, Khan performed two shows at the Sydney Opera House as part of the Vivid LIVE Arts Festival, her only performances of the year.[18] During her two-night residency at the Sydney Opera House, she debuted an early version of the song "Oh Yeah",[19] which would later be included on 2012's The Haunted Man.
In mid-2011, Khan said she was in the studio working on the new album.[18]
The Haunted Man era (2012-14)
The third album, The Haunted Man, was released in October 2012.[20] The lead single, "Laura", was released in July. The album was inspired by Khan's English ancestry and how war affected her family's relationships, and being haunted by "the memory of someone, or a lover, or things that I find heavy, like a burden."[21]
The album's second single, "All Your Gold", was released in September. Subsequent singles were "A Wall" and "Lilies".
In June 2013, she released a cover of "The Bride", a pre-revolution Iranian song, with the rock band Toy.[22] On 2 September 2013, Khan premiered the track "Garden's Heart", a collaboration with Jon Hopkins for the soundtrack to the film How I Live Now.
In 2014, Khan collaborated with Damon Albarn on a track for his 2014 solo album, Everyday Robots,[23] premiered "Skin Song" from Body of Songs—a compilation album featuring songs inspired by anatomy and medical science—and contributed a cover of "Plan the Escape" by Son Lux to the soundtrack album of the film The Hunger Games: Mockingjay – Part 1.[24]
Sexwitch (2015)
On 15 August 2015, Khan began teasing new music on her Twitter and Instagram pages via a game of hangman.[25] During a surprise Green Man Festival set in Wales on 22 August, she debuted a music project called Sexwitch with producer Dan Carey and the band TOY.[26] A self-titled album was released in September 2015 through The Echo Label, consisting of six covers of 1970s psychedelic and folk songs from different parts of the world.[27]
The Bride era (2016)
The Bride is the fourth studio album by Bat For Lashes, released on 1 July 2016. It's a concept album centered on a woman whose fiancé-to-be dies in a car crash on the way to the church.[28] This was the last album released via Parlophone, ending a four-album contract that lasted 10 years.[29][30][5] The album was later nominated for the 2016 Mercury Music Prize.[31]
Lost Girls era (2019-20)
After moving from London to Los Angeles in 2017,[32] Khan focused on scriptwriting and doing soundtracks. However, she started working on a new album after writing "Kids in the Dark" with Charles Scott IV for the Stephen King series Castle Rock.[33] Khan's fifth album is titled Lost Girls and is her first independent release after parting ways with her long-time label. The album is inspired by Los Angeles and living in the 80s.[34] It was also inspired by a feature-length script she wrote for the Lost Girls story.[30][35]
"This whole Lost Girls story and narrative was already pretty strong in my mind when I went in to write with Charles, which is why I think it came out so quickly and the way it was, because I had done all this groundwork without even realizing."[35]
A live EP, titled The Boys of Summer, was released digitally in February 2020.[36]
On 16 May 2020, Khan streamed a livestream concert from her LA home due to the COVID-19 pandemic.
On 28 September 2020, Khan released a cover of the Carpenters' "We've Only Just Begun", featuring the London Contemporary Orchestra.[37]
Sixth album (2021 - present)
Khan streamed a livestream concert on 9 April 2021.[38] This was later released as a live album titled Livestream at Home. Los Angeles, 2021 on 7 June.[39]
On 20 August 2021, Khan previewed new music on her Patreon music. It was up for 48 hours only.[40]
In January 2022, Khan previewd a new song on Instagram. Watch it here.
Other projects
In 2011, Khan narrated Rachael Cassells's 23-minute short film Mothers of the Disappeared. It explores the devastating cumulative impact of violent crime, injustice, and social and gender inequality on mothers who have lost their daughters to the violent wave of disappearances in Ciudad Juárez, Mexico since 1993.[41]
Khan and fashion house YMC designed a limited edition capsule collection of sportswear and accessories for the spring/summer 2014 season.[42] The release of the collection was accompanied by a fashion film, Under the Indigo Moon, directed by and starring Khan, with a soundtrack she composed with Beck.[43]
In 2016, she directed and wrote the short film I Do, as part of the feature film Madly.[44] The short film loosely inspired her fourth album, The Bride.[29]
In 2018, she wrote and directed a short film titled Light Beings, collaborating with The Haxan Cloak on the soundtrack.[45] She also scored the BBC show Requiem,[46] which won a Ivor Novello for "Best TV Soundtrack" in 2019.[47]
Khan soundtracked BBC's radio thriller The Piper, released on 2 November 2020.[48]
On 11 May 2021, Natasha announced a Patreon page where she'll share content such as Tarot readings, original music, handwritten letters, a monthly mood board, creative mentorship and more.[49] She assured she will still make albums and go on tours.[50]
Personal life
Khan and her partner Samuel Watkins live in Highland Park, Los Angeles.[51] She announced her pregnancy during a Instagram live on 14 April 2020.[52] She gave birth to a baby girl named Delphi in August 2020.[53]
References