"Daniel" is a song performed by Bat For Lashes. It serves as the fourth track on Bat For Lashes' second album, Two Suns and the third track on the Natasha's second EP, The Boys Of Summer. It was released as the lead single from the album on 1 March 2009.[1]
Music and composition
[
]
The song was recorded partly at Natasha's home in Brighton and she performed all the instruments,[2] except the bass line peformed by Yeasayer's Ira Wolf Tuton.[3] The song was inspired by her high school boyfriend whom she dated for seven years.[4]
She sees the song as:
The most frightening song on the record for me, because it's the most straightforward, naive and purposely simple song I've ever done. It's about teenage escapism and love and how simple things can be when you're a teenager in love, or how intense and beautiful it can be. I love songs like [Pat Benatar's] 'Love Is a Battlefield,' like when you sing them, you want to be leaning out the window of a car with the stars shining. And I felt like I wanted to encapsulate that feeling of abandon and love and sadness and melancholy, all at the same time.[5]
She told Virgin France:[6]
The actual concept of the song is about missing the simple times and teenage love. You know, that feeling of 'It's us against the world.' I wrote the main parts of the song: the bassline, all those string bits, the beat and everything. But when it came to the studio, I think without realising I unconsciously chose to use the Prophet synth that The Cure used or I wanted the bassline that ended up reminding me of those sounds, but only because they resonate with my memories.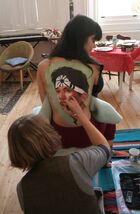 In a 2012 interview in Germany, she said:[7]
I guess it's just a song I wrote thinking about my first love and the idea that you've fallen in love with someone when you're really young. It's kind of a place that they remind you that you're home and there's a lot of romance, idealised feelings. There's this sad inevitability that it might not last. I think 'Daniel' is about that. Whenever I feel sad or frightened, I think about that early time that feels like home. I called it 'Daniel' after Daniel LaRusso in Karate Kid just because I had such a huge crush on him when I was younger. I didn't want to use a real person's name, so simbolically he is that person to me.
She revealed that she wrote the song while she was trying to work on the cover of The Cure's "A Forest", which was released as the B-side to the vinyl single of "Daniel". She noted the similarity between the bassline of the two songs: "I don't know if it's the key, or something, like, in the bass line that is similar. It wasn't until after I looked at both of them that I was like, "˜Oh shit, yeah, there's a similarity.'"[8] When Natasha writes her songs, she sees "very strong visual images" of them, and this is how she described "Daniel":
I see as the time of day when the sun is really low, and you're in a car with all your friends and you put your head out of the window and it smells of pine trees.[9]
In another interview, she gave another visual description of the song:
I've always got a story, or a landscape or colours or characters or times of day, or the light… like in 'Daniel' the light is a sunsety, golden colour, but by the end of the song I'm driving a car and got my head out of the window and there's a dark blue sky with trees wheezing past and I'm singing it to myself in the dark.[10]
A early, more tribal-driven version of the song was performed on the 2008 Radiohead tour.[11] This live version was released as a bonus track on the special edition of Two Suns.
Award
[
]
The song won a Ivor Novello award at the Best Comtemporary Song category in 2010. Natasha said she was shocked because she won the award:[12]
Thank you. Who'd have thought that when I was sitting in my pyjamas in my bed writing this song I'd be here picking up this award?
On her website, she posted the following message:[13]
Hello everyone… Wow!!! I am so thrilled and happy to have won an Ivor Novello award! The whole ceremony was really overwhelming with tons of great musicians, songwriters and composers gathered under one roof. I was soooo nervous, but managed not to cry until after I accepted my award.

I think this one means such a lot to me, because its about the craft of songwriting, which at times can be a maddening and terrifying thing to do, but equally joyous and liberating when you think you've cracked it. I couldn't have believed after writing Daniel in my bedroom, dreaming about lost teenage love, that this would happen!

I just want to thank everyone who has supported me to get to this point… I am writing the new album right now and so excited to be creating a whole new world!! Cups of tea, piles of books and musical instruments abound. I am also making some short films which i hope to share with you at some point.

Stay happy and well, and please, if you can, make your vote online to save BBC 6Music. The deadline is approaching, we music lovers can't afford to lose this radio station!

Love natasha
Music video
[
]
Music video
Information
Released
March 16, 2009
Length
03:46
Director
Johan Renck
Producer
Unknown
Filmed
March, 2009
Location
Unknown, Sweden
Vevo views
+1,501,713
Behind the scenes
[
]
Lyrics
[
]
Daniel, when I first saw you
I knew that you had a flame in your heart
And under wild blue skies
Marble movie skies
I found a home in your eyes
We would never be apart

And when the fires came
The smell of cinders and rain
Perfumed almost everything
We laughed and laughed and laughed

And in the golden-blue
Car you took me to
The darkest place you knew
And set fire to my heart

When I run in the dark, Daniel
Into a place that's lost, Daniel
Under a sheet of rain in my heart, Daniel
I dream of home...

But in a goodbye bed
With my arms around your neck
Into our mouths the tears crept
Just kids in the eye of the storm

And as the house spun round
My dreams pulled me from the ground
Forever to search for the flame
For home again!
For home again!

When I run in the dark, Daniel
Into a place that's lost, Daniel
Under a sheet of rain in my heart, Daniel
I dream of home
When I run in the dark, Daniel
Into a place that's lost, Daniel
Under a sheet of rain in my heart, Daniel
I dream of home
Official versions
[
]
Album version — 04:13
Cenzo Townshend Radio Edit — 03:37
Duke Dumont Remix — 03:37
Death Metal Disco Scene Remix — 06:46
Death Metal Disco Dub —05:47
References
[
]